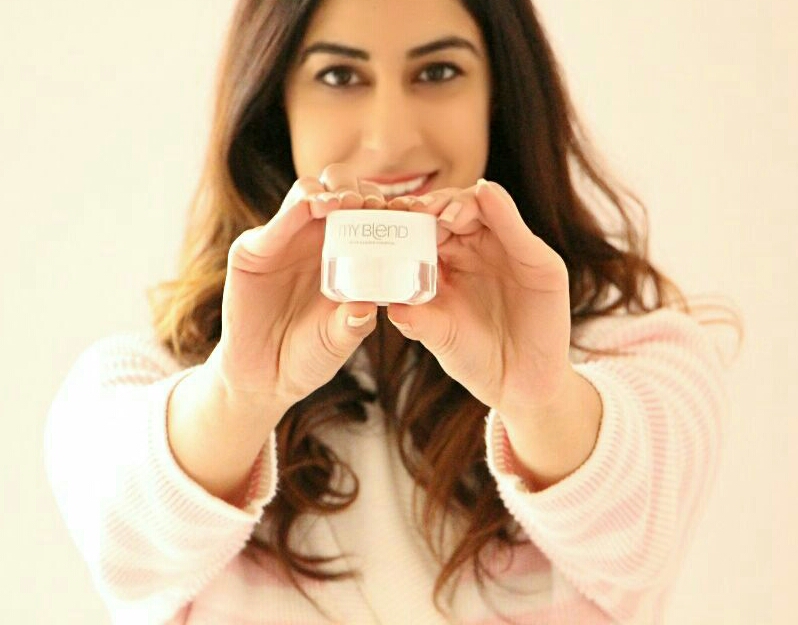 From the moment you walk into Spa My Blend by Clarins you are greeted by smiling faces at the front reception. Once you are checked in a concierge will guide you to the relaxation lounge (separate for men and women) where you are provided a personal locker equipped with a robe and slippers, available in a range of sizes. Both the men's and women's lounge feature a green tea-infused vitality pool, steam room, sauna and showers.
At the rear of the spa you will find a heavenly coed Urban Sanctuary sunroom, bursting with natural light shining through a massive glass ceiling. Unlike most spas which can be quite dark, I find the natural light uplifting and refreshing, especially on cold winter days. Lined with comfortable loungers and blankets you just want to cuddle up and fall asleep in, the Urban Sanctuary is where I relax before and after treatments. To settle in, I make myself a cup of jasmine tea, prepare a small plate of dried fruit, nuts and granola (available in the Sanctuary), and cozy up on a lounger with a copy of Vogue. Your esthetician/ masseuse will come get you when it's time for your treatment.
My first treatment was the Around the World massage, as recommended by Spa Director Maggee Byrd (click here for my full interview with Maggee). Using a combination of hot stones and exclusive techniques, I came out feeling like a marshmallow. I usually opt for the deep tissue massage, and I'm glad I changed things up because I think I just found myself a new favourite massage! I was given the choice between three oils (fun fact – these are the very first Clarins products from 1954); tonic, contour and relax. The tonic body oil (geranium, mint and rosemary) helps to firm, tone and improve the elasticity of skin, the contour body oil (butcher's broom and tonka bean) filters and releases water retention and the relax body oil (chamomile, basil and petit grain) helps with aching muscles while releasing tension, aiding in sleep and enhancing well-being. I opted for the tonic body oil for the lower half  of my body and the relax body oil for the top half. All the staff at Spa My Blend are incredible, but my personal favourite masseuse is Angie, who seems to find the right balance of pressure and relaxation. Angie was kind enough to provide me with some great tips on how to make the most of your massage.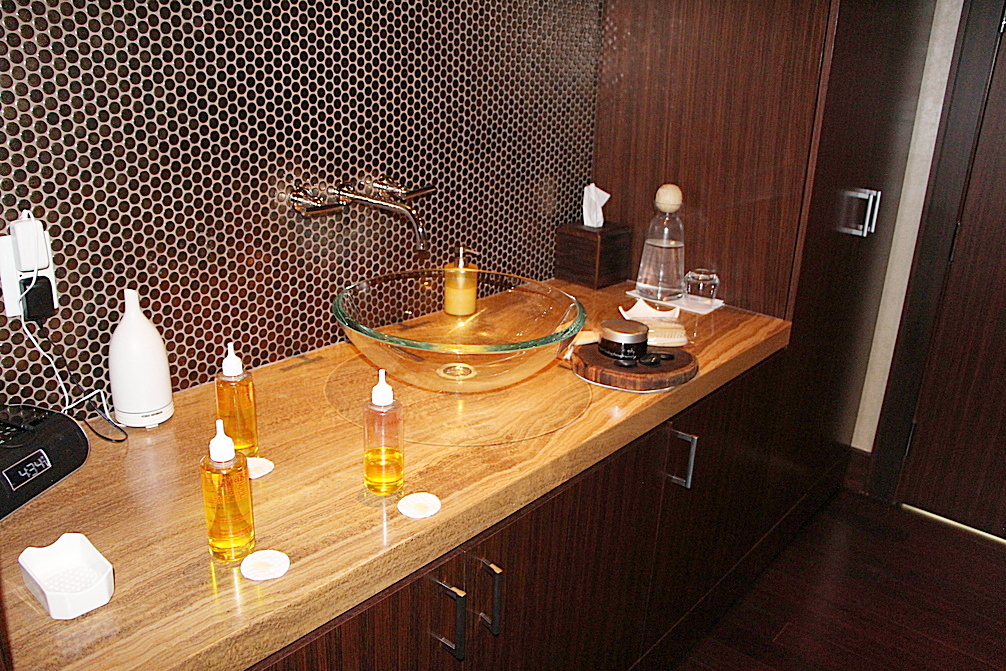 ANGIE'S TIPS TO HELP MAXIMIZE YOUR MASSAGE TREATMENT
Before or after your massage bathe in 3 to 4 cups of Epsom salt to help with relaxation and balancing pH levels
Use the sauna before your treatment to help soften the muscle tissues, which will allow the masseuse to provide a deeper tissue massage with less pain to knotted areas
Use a heating pad to help increase blood flow and circulation
Your body releases toxins during a massage, so stay hydrated by drinking lots of water after your massage
When your treatment is complete take it easy and don't over exert yourself
Following my massage, I headed back to the Urban Sanctuary where I munched on some guacamole and chips, which I pre-ordered when I arrived. I'm obsessed with the guac at The Ritz and am guilty of ordering it every single time I go. If you're getting multiple treatments or in a time crunch I recommend pre-ordering snacks/ meals, although you can order in the Sanctuary anytime.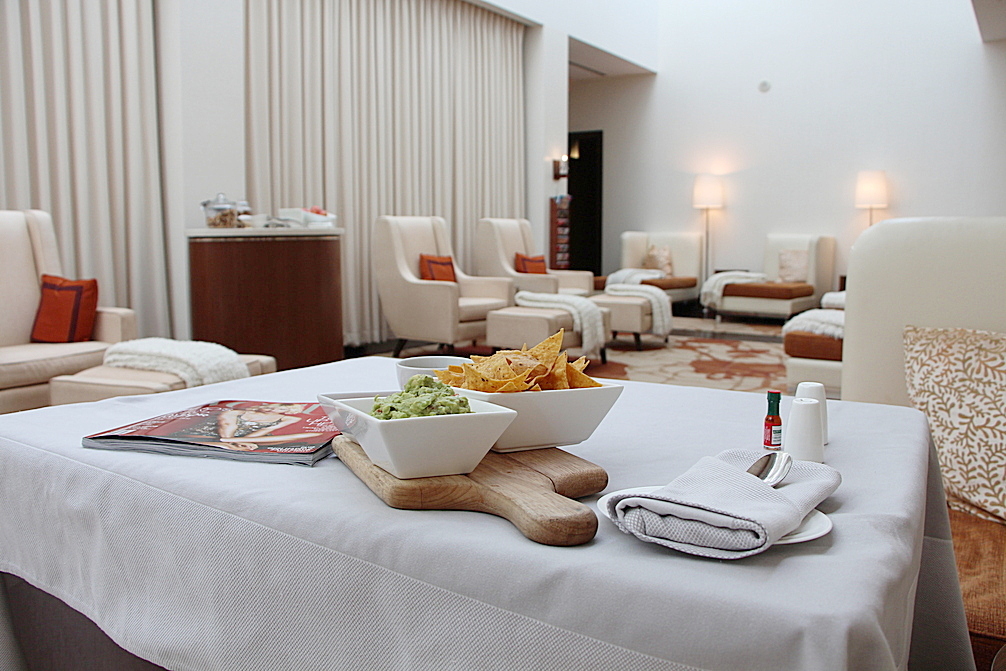 After some much needed rest (and fuel), I was greeted by my esthetician Angela, who led me down the hallway to my treatment room. Angela has performed facials on me before, and I absolutely love my hour with her because not only is she a blast to be around, but she's a wealth of knowledge when it comes to skincare. Angela and I spoke about my lifestyle as she analyzed my skin, and together we decided on the best essential formula and boosters. It's been a busy few months and I felt my skin was lacking that magic glow, so Angela used an anti-aging formula blended with the radiance and vitamin boosters. She performed the My Blend Perfect Complexion facial on me using a series of signature Clarins techniques, and the results were nothing short of amazing. My skin felt instantly refreshed and awake, and I finally had my glow back!
ANGELA'S TIPS TO HELP MAXIMIZE YOUR FACIAL
Apply a facemask the three evenings following your facial (not the evening of). Your skin has just experienced a deep clean which will allow it to absorb the benefits of the mask
If possible, don't apply make-up after a facial. Let your skin breathe
Exfoliate before an at-home facial to remove dead skin
Don't exfoliate every day as it will strip your skin of moisture. Stick to once or twice a week
Stay hydrated!
Ladies, avoid facials the few days leading up to your period. Your skin is sensitive during this time so your overall skin analysis is going to be slightly skewed
Don't use a 2-in-1 moisturizer sunscreen and think your skin is being protected. While it's fine if your moisturizer contains SPF, apply a separate layer of sunscreen to shield your skin. Much like 2-in-1 shampoo and conditioner, combining two products with different tasks dilutes the benefits of each one
Wear sunscreen every day, even in the winter
Don't use facemasks in the steam room because your skin is detoxifying during this time, and avoid steam rooms after your facial
If you're going to be vacationing somewhere hot, don't book a facial right before you leave. With all facials they involve some type of exfoliation, which means you have vulnerable skin cells on the surface of your skin that are highly susceptible to burning. Rather, wait until you've been back at least three weeks before getting a face treatment
After receiving all my treatments, I rested in the Urban Sanctuary for a short while. I then made my way back to the women's lounge where I got ready. Whenever I receive a facial I shower beforehand and avoid making plans that evening so my skin can rest and feel rejuvenated. I love how spacious the lounge is, because let's be real, there's nothing worse than fighting for mirror room when you're trying to get ready, or waiting in line for a shower. I can't count the number of times I've frequented Spa My Blend, and I'm happy to report that I've never had to wait to use any facilities, no matter how busy the spa is. Bring your make-up with you if you plan on heading out after, and for the days where you need a little extra pampering you can book a make-up application at the front.
When you head back to the front reception to check-out, you're able to shop a range of products, including the Clarins/ My Blend line. I had the chance to chat with Clarins Skincare Expert, Elizabeth Fox, to find out her favourite Clarins products.
ELIZABETH'S FAVOURITE PRODUCTS
Beauty Flash Balm: Wave goodbye to tired, stressed skin. Perfect for special occasions, this balm instantly moisturizes and brightens skin
Fix' Make-Up: Spray this bad boy on your face to help set your make-up for long-lasting wear
Bronzing and Blush Compact: Get your tan on with this beautiful compact comprised of a range of colours
If you planning on visiting this amazing spa, here are a few things to know:
In the lounge you will find; hair dryers, hairspray, combs, deodorant, q-tips, etc
The showers all have shampoo, conditioner and body wash
Want to take a dip in the pool but don't want to lug home a wet swimsuit? There is a swimsuit dryer in the locker room. Pop in for a few seconds and voila …dry!
If you're bringing clothes to go out in after, ask for a full size locker to keep your clothes from creasing. On busy days these lockers go fast, but it doesn't hurt to ask
The men's lounge is equipped with sofas and a television
If you valet at the hotel, present your card to the front reception of the spa when checking out to add the cost onto your bill (spa-goers receive a discounted rate of $15 for valet)
Thanks so much to Maggee Byrd and the Spa My Blend team at The Ritz Carlton for treating me to an amazing afternoon of pampering!
Check out part 1 of this 2 part feature here!
xo, Kiki