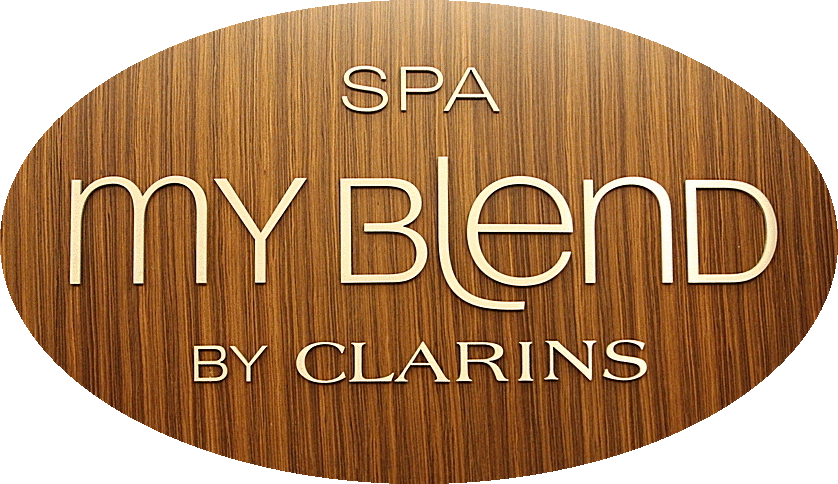 I like love to spa. Whether I'm vacationing in Bali, spending the weekend up north or in the comfort of my own surroundings I won't skip out on an opportunity to sneak away for a little pampering. Spas are a dime a dozen, but finding an amazing spa worthy of your unwavering praise and commitment is like finding a needle in a haystack. After trying what seems like every spa in the GTA, there is one oasis that has me singing its praises to anyone who asks; Spa My Blend by Clarins. Located on the 5th floor of The Ritz Carlton in the heart of downtown Toronto, this spa captured my heart from the moment I stepped through it's glass doors many years ago.
The only one of its kind in North America, Spa my Blend by Clarins is a unique luxury spa catering to a personalized experience from start to finish. The 23,000 square foot facility within The Ritz boasts 16 treatment rooms, two couples suites, the city's most beautiful and airy lounge, and did I mention it's one of only seven in the world!
I was fortunate enough to spend some time with the amazing Spa My Blend team at The Ritz Carlton last week where I had the chance to sit down with some of the brightest and best in the business, including their incredible Spa Director Maggee Byrd. From details on my favourite treatments to tips on maximizing your spa visit to an exclusive interview with Maggee, I'm so excited to share with you guys a world class experience of luxury and exclusivity over this two-part blog feature!
Before I began my treatments Maggee and I headed down to DEQ Terrace and Lounge located on the main floor of The Ritz (side note – they offer an amazing Afternoon Tea here). We sank ourselves into the plush sofas by the fireplace where Maggee answered all my questions on Canada's top spa.  Check out all the details here, only on Kiki Khosla!
Spa My Blend is one of seven in the world. How did the partnership between The Ritz Carlton and Spa My Blend come about?
The Ritz Carlton, being a luxury hotel company, had the opportunity to partner with Spa My Blend by Clarins almost four years ago. It was really about taking a luxury hotel company and partnering with a brand that can deliver that experience and share the same vision. Spa My Blend is ultra personalized and exclusive to North American and The Ritz is the only spa that carries it.
What are the top three treatments at Spa My Blend by Clarins?
In any spa your top treatment will always be massage because people are familiar and comfortable with it. Our My Blend facial is a signature treatment which makes it quite popular as we're the only spa in North America to offer it. The Ritz is already about personalizing a guest experience from before you arrive to the moment you leave, and that's what the My Blend concept is about. Couples treatments are also quite popular.
What is your favourite treatment?
The My Blend facial! It's all about customization and personalization. Everyone's skin is different; some may experience redness while others have enlarged pores. This facial takes into consideration your lifestyle, diet, stress levels (etc). What I love about the My Blend concept is that it's not just focusing on the type of skin you have, but what your skin needs at the time. You can get a My Blend facial now and come back in October or November (although I recommend a facial every month) to find you need a completely different My Blend facial.

We use essential formulas, which include five day and five night ones. They are all different according to your skin, and in addition to these essential formulas we have nine boosters. We recommend adding 1 or 2 boosters to the essential formulas to tailor the facial even more to what your skin needs. The technique we use and the movements Clarins developed for our treatments is just phenomenal and the results are amazing.
Are these facials popular with men as well?
They are, and we also offer men's facials. Men are sometimes a little more hesitant than women to have a facial, although it's becoming more and more popular. They are typically more inclined to try the men's facials. We're fortunate to offer hydra-facials as it's not something you see at every spa, and quite a few men enjoy this. It's a machine we use which is all about the power of suction, cleansing and detoxifying.
The one thing I love most about Spa My Blend at The Ritz is the consistency. Throughout the years, the service level and treatments continue to exceed my expectations. How do you maintain such consistency?
We have a wonderful group of ladies and gentlemen who are part of The Ritz Carlton team, and without them you have a beautiful building but it's not the same experience. It's these individuals that make The Ritz Carlton what it is, and so consistency is key in what really sets us apart from others. We make sure our ladies and gentlemen and properly trained. They are trained and re-trained. It's about educating the team and making sure that communication is shared.
Working with so many different skin types and having to determine the best treatment requires a skilled esthetician. How do you educate your team on the best course of action for each client?
Absolutely. Clarins is an amazing partner for us and they provide training on a regular basis for our team. They have great trainers who come in, work with the team and share their knowledge. This is important because the movements Clarins uses are unique to the brand.

Anytime a new treatment is rolled out we do an in-depth training with the entire team. We have training every month in different areas. When we train something one month, the next month we do a follow-up to that session. We experience the treatments ourselves, and they are also practiced on others to make sure protocols are being followed and treatments are being performed in the manner they should.
How often do you add new treatments?
Usually once a year. We just rolled out a new spa menu at the end of March. The menu doesn't change dramatically year over year, but we do add a few new treatments.

This year, a few things about the My Blend facial changed including the essential formulas. A lot of our boosters changed, and we added a new one which is the invisible-pore booster. We have now defined five specific types of My Blend facials that we recommend, and when you have a skin consultation with your esthetician/ skin coach, they can help you identify the type of facial that should be performed based on your lifestyle and what your skin currently needs.
How was the My Blend by Clarins line created?
Dr. Oliver Courtin is the one who developed the entire My Blend concept. He is the son of the founder of Clarins and is actually a surgeon. Being a surgeon he looks at skin and skin cells and how they react to certain things. He looks at how your body and skin change over time and developed the entire My Blend concept with his medical knowledge, so it's quite amazing.
How far in advance do you recommend booking for groups such as bridal parties, girls days, etc?
We receive inquiries from guests at all lengths of time prior to, but it's really good to know ideally six months in advance. Booking at least three months in advance is helpful. Even if we don't have much notice, anytime we can make things happen for a guest we will try!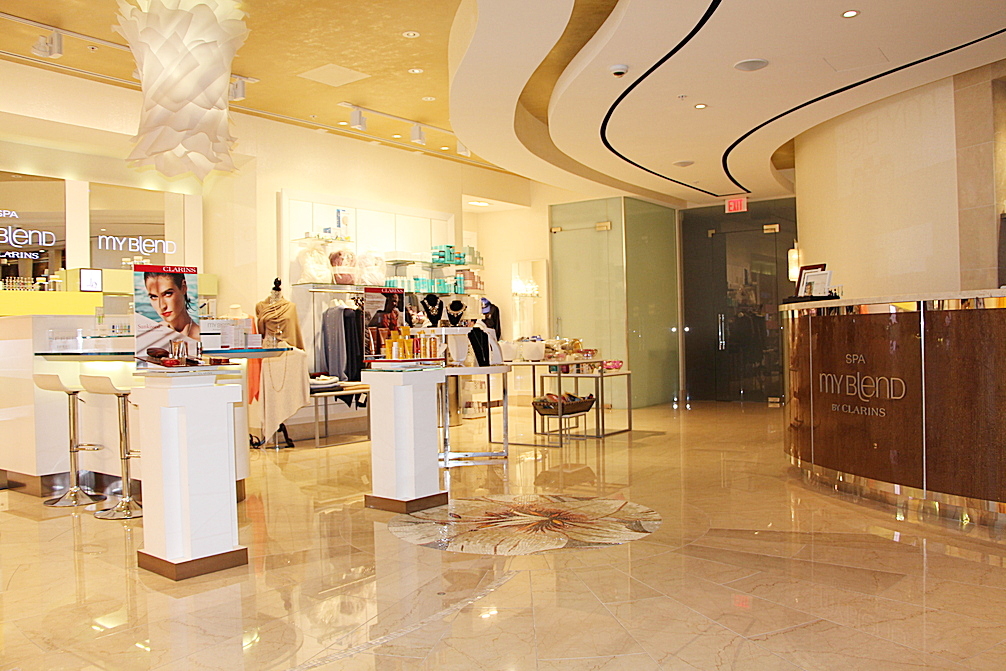 (Front reception)
(My Blend essential formulas and boosters)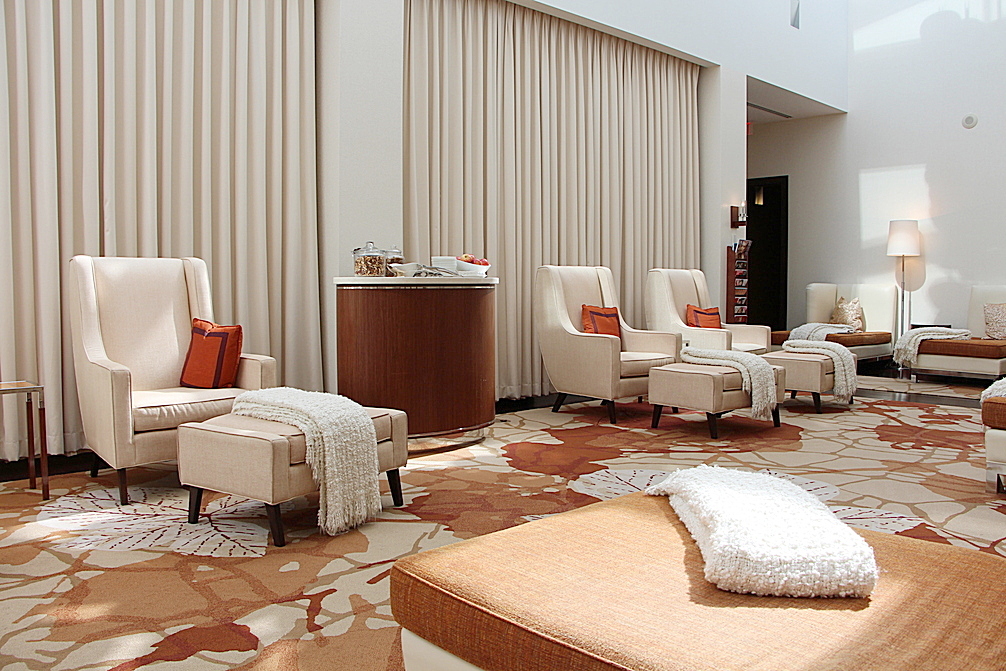 (Co-ed Urban Sanctuary sunroom)
Get ready for Part 2 tomorrow, where I share all the details on my personal Spa My Blend experience, as well as some tips and tricks from The Ritz team on maximizing your visit!
A huge thank you to Maggee for her time & hospitality!
xo, Kiki