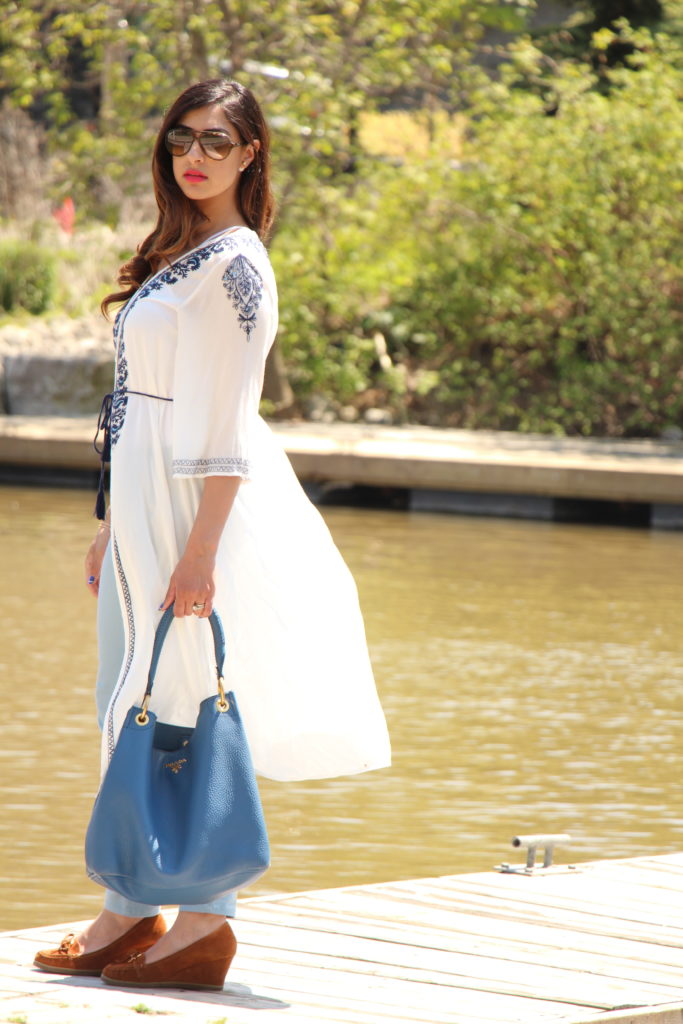 Heading down to Bronte Harbour is one of my favourite things to do in the summer. Nitin and I will grab coffee and ice cream as we stroll along downtown lakeshore, popping in and out of stores before making our way to the marina where we can spend hours chatting and watching the boats.
I'm a huge believer in wearing something more than once because let's be real, there are so many ways to style the same piece while creating a unique look each time. I purchased these uber comfortable Design Lab Lord & Taylor skinny jeans from Hudson's Bay and have been mixing and matching them with anything from a bardot top to an OVO tank; they are so easy to dress up or down. As I was browsing through the Design Lab section the flowy silhouette and embroidered elements on this Bed Jacket (now on sale) caught my eye. The casual simplicity makes this a perfect piece for a Sunday stroll or weekday errand-run, but I will warn you about how quickly it wrinkles. I paired this outfit with wedge heels, my classic Ray-bans, favourite Prada bag and Pandora accessories.
Lord and Taylor's own Design Lab brand has a great selection of summer must-haves at affordable prices. Some of my favourite pieces are this striped romper, this floral scroll handkerchief dress (I bought a similar blue and white version for my trip to Greece last year which you can view here) and this off-shoulder denim top.
xo. Kiki